A Stone Polishing Service in Houston, TX Helped This Marble Floor Go from Dull to Shiny in No Time
September 23, 2016
This homeowner from Houston, the Magnolia City, had been renting his house to a big family with five small children for the last eight years. We all know babies and toddlers can be messy, spill and drop things such as food, paint, drinks, and many other substances that can stain any surface they touch. This home's kitchen floor – once a beautiful, sparkling, yellow marble tile floor – had become dull and stained, and the grout lines were dirty beyond description. After much effort, the tenants had managed to buy their own place and moved out, leaving the house with the normal wear and tear caused by years of use, combined with the lack of professional maintenance. Many people believe that once a marble surface has been installed, it does not need any sort of maintenance, and this couldn't be further from the truth. All stone surfaces need care, and marble is no exception. After the house became vacant, the owner decided to put it up for sale, but before that, the entire home needed a bit of maintenance. The overall state of the house was not so bad, so the homeowner could do most of the work himself, such as painting all the walls, fixing the piping, and checking the electrical system. The floors were a different story. While most of the floors around the house had been fairly maintained by the family, the kitchen floor needed some serious work. So, he decided to get the help of professionals. He contacted us after finding the Sir Grout Houston website by searching for
Houston stone polishing
services online. He checked our website, read a couple of our blog posts about our work on marble surfaces, and gave us a call to set up a date for a free evaluation.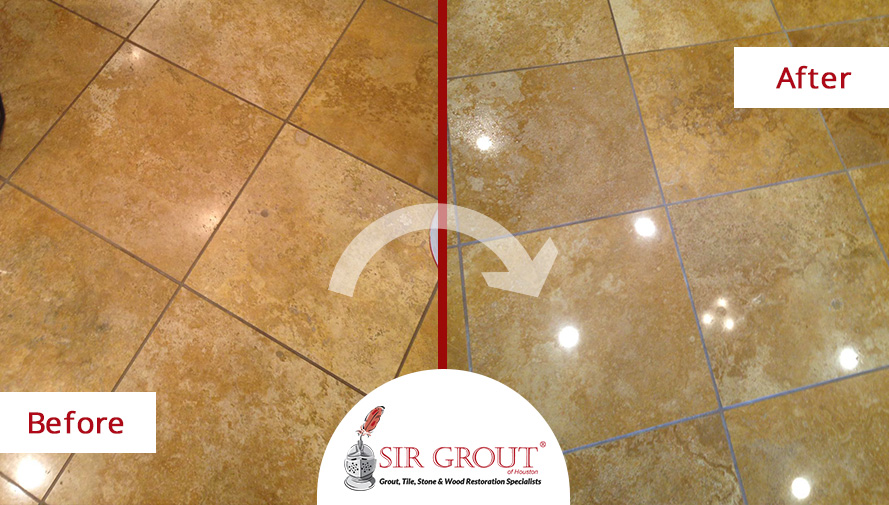 Once the customer was satisfied with our approach and the estimate, we set a date to perform the service. Since the tiles were so dull and there were some spots, we decided to do a deep cleaning, which consisted of pre-treating the stone with a pH-neutral cleaner and a cutting edge soft brush vertical scrubbing system, designed to delicately clean the stone. After we removed all the grime, we proceeded to polish the floor. To get that beautiful, elegant sheen that marble is so well-known for, our team of experts used a state-of-the-art polishing process that consists of rubbing the stone with abrasive materials and polishing powders to bring out the stone's deep, natural shine. This is a specialized procedure which requires skill and experience.
Once the job was done, we showed our client the results. He was very happy to see the original marble tile floor he had installed when he bought the house. We told him he should always use a high-quality pH-neutral, stone-safe cleaner and that he should pass on that information to whomever purchased the house, so they could preserve the floor's luster for a long time.
If you have polished marble surfaces that have become etched, lost their shine and beauty, or need repair, then give us a call at
(713) 856-9586
or fill out the "Request a Quote" form at the bottom of this page to set up a date for a free evaluation. Here at Sir Grout Houston, we can repair, refinish, protect, and restore any stone surface that may require our attention. The before and after pictures shown above show how our polishing service can revive your worn-out marble tiles. If you want to follow our work and keep up to date with our promotions, find us on
Facebook as Sir Grout Houston
, follow us on
Twitter @SGHoustonTX
and on
Instagram @SirGrout
.