Welcome to the Terracotta category for the Sir Grout Houston Blog. Here you'll find blog posts related to terracotta surfaces that we've restored. See the amazing transformations with the included before and after pictures. Feel free to share and leave your comments.
Published June 14, 2016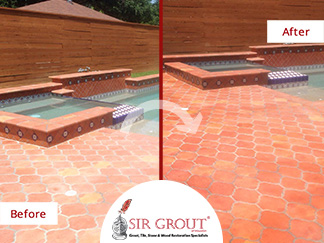 This Saltillo Tile Pool Deck in Houston Was Treated with a Stone Sealing Service to Prevent Damage
While Saltillo tile is a very diverse material that can be used for different settings, it certainly stands out the most when it's used for pool decks, since it gives them a lovely rustic look. Our customer's Saltillo tile pool deck was no different.
READ MORE