Learn How Our Houston Stone Sealing Professionals Brightened the Look of This Home's Travertine Chimney
June 05, 2017
A couple from Houston, Texas, came upon some unexpected money and decided to invest it in improving several areas of their home. One of the rooms that they wanted to revive was their family room; it had a chimney with travertine mosaic detailing that complemented the travertine tile floor. The chimney arrangement looked dull and the floor was dirty and stained. After discussing it with a couple of friends, they decided to search online for a
stone sealing company in Houston
. That's how they came across Sir Grout Houston's website. Once they watched some of the video testimonials and read about the work we had done on similar surfaces, they decided to contact us to set up a date for a free evaluation and quote.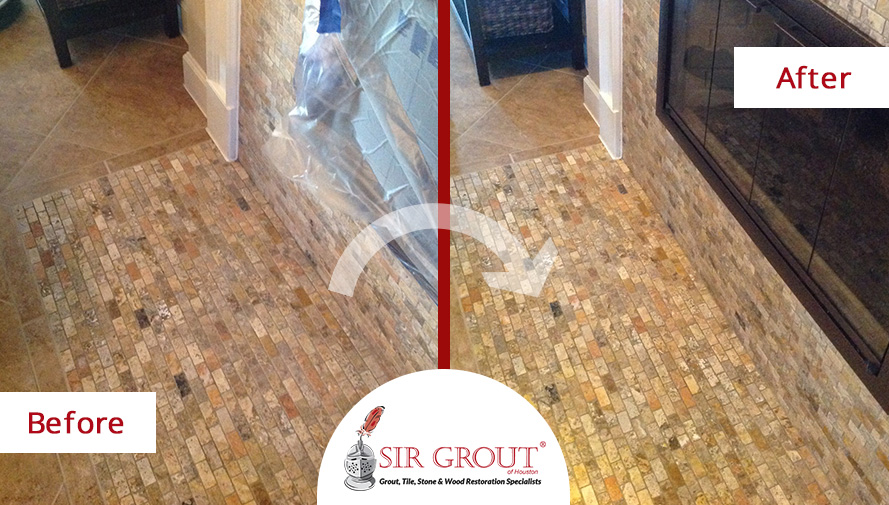 On the evaluation day, we checked the floors and the chimney. We confirmed that a grout and tile cleaning and color sealing would improve the look of the floor, and an enhance and seal would brighten the fireplace detail. We offered them an estimate and they booked the next date available for us to carry out the job.
The day of the appointment, we started by masking and protecting all the areas adjacent to the surfaces we were going to treat, including the fireplace's glass panes and frame. To brighten the look of the chimney, we cleaned the surface thoroughly and let it dry. This is done to ensure the sealant is absorbed properly by the surface. After the surface was dry, we applied Sir Grout's color enhancing sealer which is formulated to highlight and enhance the beauty and character of natural stone. Our color enhancing formula is U.V. resistant and providing maximum stain protection from oil and water based stains.
To clean the family room floor, we started by soaking it entirely with our proprietary tile and grout cleaner to loosen the soil embedded on the surface; then we brushed the surface with a gentle scrubbing machine. After that, a steam cleaner was used to remove the dirt from the most stubborn areas. Once all the tiles and grout lines were completely rid of dirt, we proceeded to do the grout recoloring by carefully applying another one of our proprietary products: ColorSeal. This product is a thick, water-based acrylic sealer that comes in virtually any color. Aside from recoloring the grout lines, it makes grout water and stain resistant. As a final step, we buffed Tile Armor, our water-based sealer, on the travertine mosaic floor to further protect the surfaces.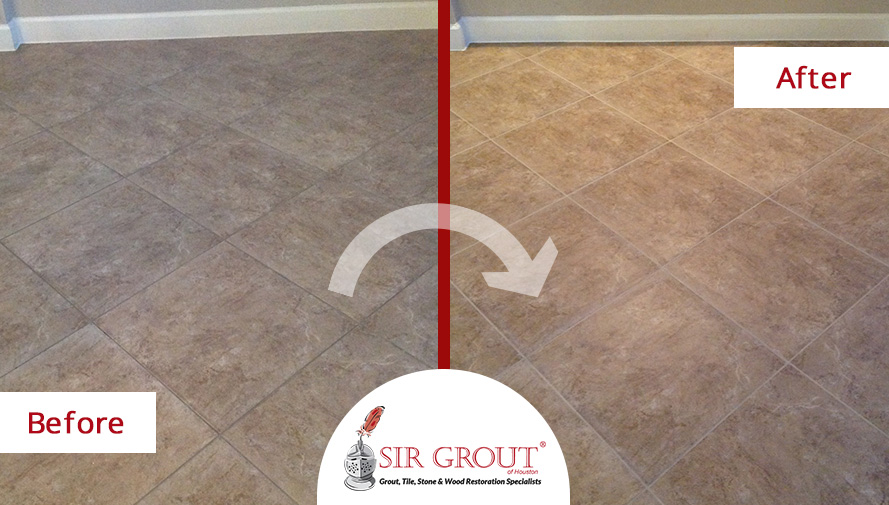 The result was a revived family room with a clean feeling. The clients were very pleased with how it turned out and told us they had definitely made a smart decision when they chose to hire us for the home improvement. We told them that the treatments we had performed on the surfaces will help with maintenance, but that they needed to follow our recommendations for stone care, such as to always use products specific for natural stones, and with a neutral pH.
If you need grout recoloring specialists to revive the look of your travertine surfaces, give us a call at
(713) 856-9586
or fill out the "Request a Quote" form on this page to set up a date for a free evaluation. If you want to follow our work and keep up to date with our promotions, find us on
Facebook as Sir Grout Houston
, follow us on
Twitter @SGHoustonTX
and on
Instagram @SirGrout
. If you want to get all up-to-date information about our products and services, subscribe to our
newsletter