Welcome to the granite category for the Sir Grout Houston Blog. Here you'll find blog posts related to granite surfaces that we've restored. See the amazing transformations with the included before and after pictures. Feel free to share and leave your comments.
Published July 18, 2019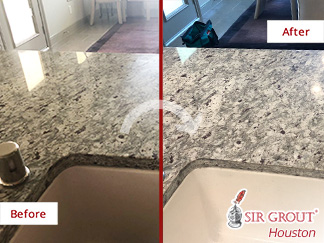 Our Stone Honing Experts in Houston, TX Brought Back the Shine for This Kitchen Granite Countertop
Recently, we got a call from a Houston resident who needed to have her beautiful granite kitchen countertop restored. When she first moved into her brand-new home, she found a huge scratch on her granite countertop.
READ MORE